DR MICHAEL IRMER HAS BEEN AT FRAUNHOFER IGP SINCE 2007 – HE HAS SEEN THE GROWTH OF OUR INSTITUTE!
Born in Rostock, Dr Michael Irmer began his Fraunhofer career as a student assistant. At that time, the institute was still an Application Centre (AGP). Today, Dr Irmer is head of the Corrosion Protection team in the New Materials and Processes department.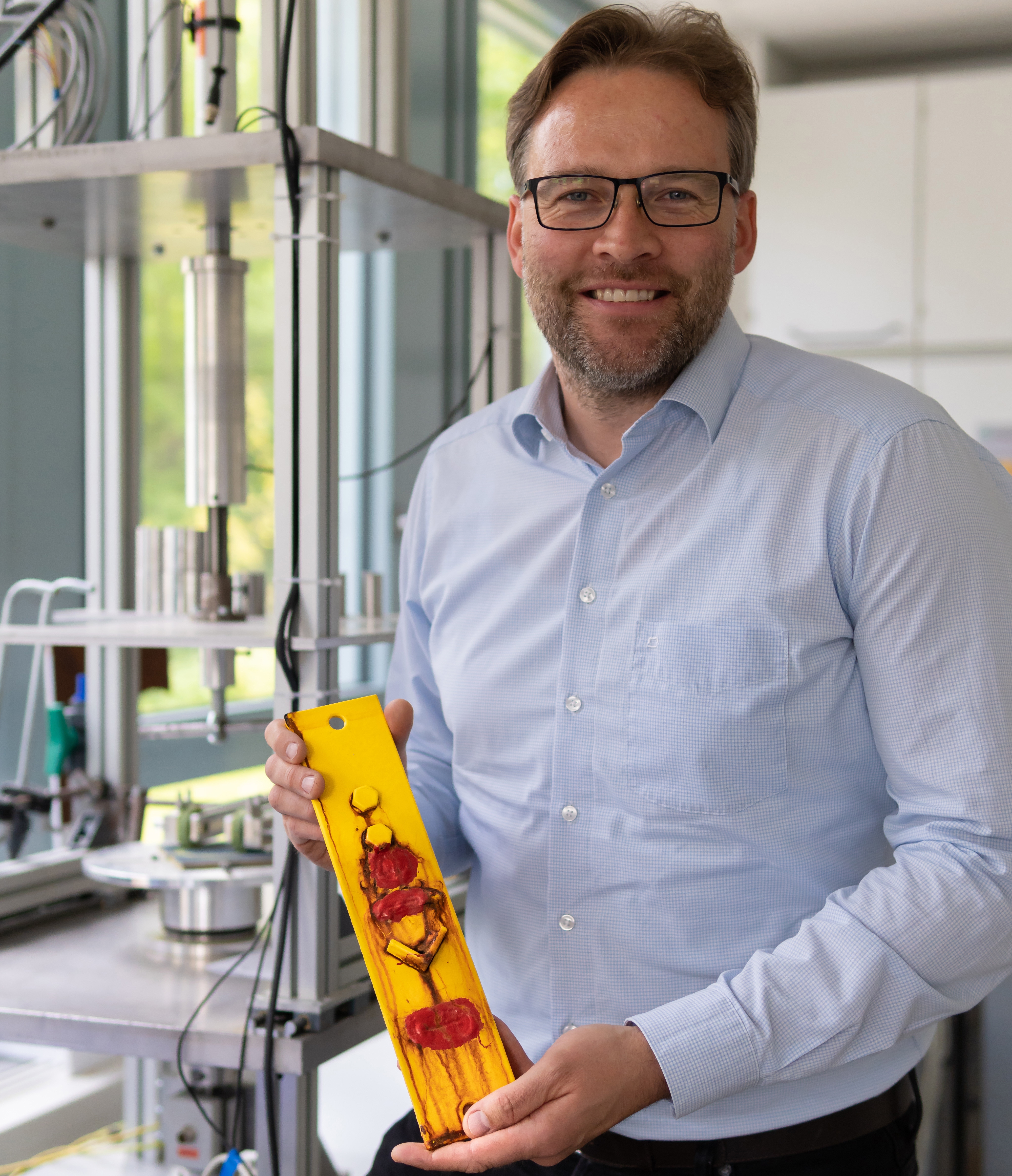 Offshore wind turbines were not his first passion. "Actually, I wanted to work in the automotive industry. I did an internship at Daimler in Berlin in 2009/2010. I could have written my diploma dissertation there, but my chances of being taken on were poor at the time", explains Dr Irmer. Prior to this, he had been employed as a research assistant at Fraunhofer AGP since September 2007. He studied industrial engineering at the University of Rostock, and in addition to his job as a night porter in a hotel, he worked in the Application Centre for Mechanical Joining Technology. "At that time, only the technical centre and its offices was located in the hall", he recalls. Instead of writing his diploma dissertation at Daimler, Michael contacted his old employer and ended up writing his dissertation at the AGP in Rostock. His topic: "Development of a concept for the strategic orientation of a research institution in Mecklenburg-Western Pomerania in the field of wind energy". The transfer from Daimler worked out equally well here.

A switch to Adhesive Bonding Technology

On 1 January 2011, Michael joined the staff of Fraunhofer AGP. He switched from Mechanical Joining Technology to Adhesive Bonding Technology. At the time, Group Head, Dr Nikolai Glück, had the POLAR research project on his desk and asked: "Wouldn't you like to deal with the subject of corrosion?" With a smile, Michael tells us today: "I had no idea about that. I think there was only one lecture in the entire course of studies that dealt with corrosion. But I gladly accepted the challenge. Nikolai put the application documents on my desk, promised me his support and then it was all systems go!" Michael has continued to work within the areas of corrosion and offshore wind energy to this day. In 2019, he successfully completed his PhD on: "The impact of mechanical stress on the longer-term effectiveness of corrosion protection in multi-layer organic coating systems using the example of offshore wind turbines". Corrosion has a major impact on the economic efficiency of offshore wind turbines.

Corrosion protection will remain an important
subject in the future

Corrosion has a major influence on the economic efficiency of offshore wind turbines. "Corrosion is always associated with high costs. I am a huge fan of offshore wind energy. It simply has to become even cheaper. One starting point for this is to avoid corrosion damage and to make repairs as cost-effective as possible. The future belongs to energy generation with offshore wind turbines. With the results of my work, they can become even more competitive", explains Michael.

Plenty of room for development and a great team!

Michael, who is originally from Rostock, has never regretted that he did not end up in the automotive industry. "From friends who work in this field, I know that people work in a narrow specialist area. At Fraunhofer, you can develop far more freely and choose the fields in which you work. The Fraunhofer Society enables me to identify my strengths and to develop them. This gives me the chance to expand my skills on an ongoing basis and to continue my training in a targeted manner".
Michael heads a very young team and is looking forward to future tasks at the Fraunhofer IGP: "We're a great team. We're highly motivated and up for any challenge! We definitely want to grow in the future".